Arkansas
Laser Tag Source State of the Week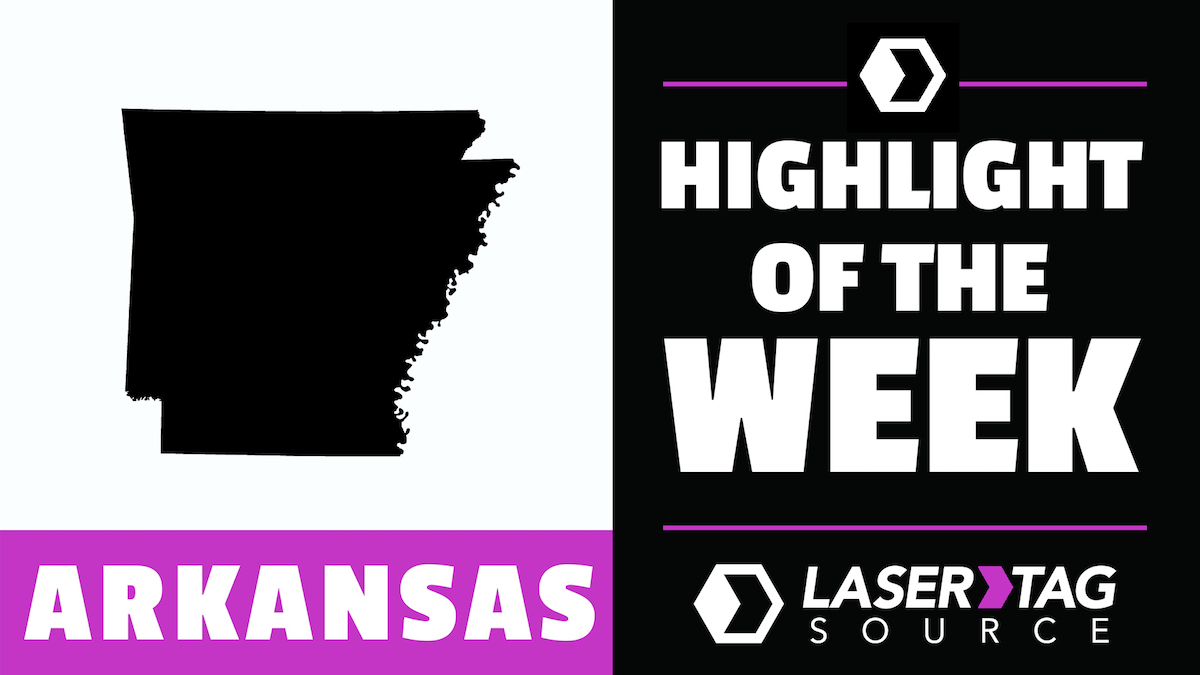 Arkansas Quick Facts
The World's Championship Duck Calling Contest is held annually in Stuttgart.
Arkansas has the only active diamond mine in the United States along with the only mine where you can mine for your own diamonds.
The next time you're moved to tears by a great movie moment made perfect by the soundtrack, thank Pine Bluff native Freeman Owens, the first person to successfully add sound to film.
Native Johnny Cash's "Five Feet High and Rising" song was based on a 1937 flood that saw his hometown of Dyess Colony evacuated.
Little Rock is the home to the American Taekwondo Association National Headquarters.
The Dover Lights are an unexplained phenomenon that witnesses say flicker and sway in various colors in the sky overlooking the Ozark Valley. Legend has it that they're lights carried by Spanish Conquistador ghosts searching for their lost gold in the foothills.
Additional Arkansas Information
How Arkansas Got Her Name
The term Arkansas means south wind and is derived from a name used by some Native Americans to describe the Quapaws, an early tribe in the area.
Geography
The state's diverse geography ranges from the mountainous regions of the Ozark and the Ouachita Mountains, which make up the U.S. Interior Highlands, to the densely forested land in the south known as the Arkansas Timberlands, to the eastern lowlands along the Mississippi River and the Arkansas Delta.
The Territory of Arkansas was admitted to the Union as the 25th state on June 15, 1836.
State Nickname:  The Natural State
State Flower: Apple Blossom
State Tree: Loblolly Pine
Capital: Little Rock
flow from Hot Springs Mountain, at an average temperature of 143 degrees.
Tubes of Mascara (every second)
While the makeup company Maybelline is headquartered in New York, its factory has been based in Little Rock since 1975, selling an average of 1.7 tubes of mascara every second.
The Ozark National Forest covers more than one million acres.
have been discovered in Arkansas.
Arkansas borders Louisiana to the south, Texas to the southwest, Oklahoma to the west, Missouri to the north, as well as Tennessee and Mississippi on the east.
In the 2000 census, Arkansas ranked 33rd in size with 2.67 million residents.
Laser Tag has Shipped to 16 cities in Arkansas
<iframe src="https://www.google.com/maps/d/u/0/embed?mid=1mXq_-uh9pR7usOZrDBMO9suStsA" width="100%" height="480"></iframe>