Testimonials
See what people have to say about us
Latest Customer Spotlights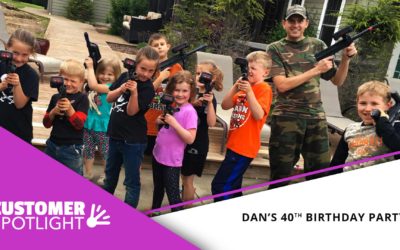 Looking to celebrate with kids of all ages? Read on to learn how Dan celebrated his 40th Birthday in style!
read more
I wanted to write in and say what a wonderful experience my library had with using your equipment. We hosted an overnight event for teens, the Late Night Lock-In, as a way to celebrate the end of our summer reading program. Teens who read at least 30 hours and attended two library programs were eligible to attend. When we advertised that laser tag was happening at the Lock-In, teens were incredibly eager to participate and the event filled up quickly. We ordered 30 Hornets and the Laser Swarm equipment. Your videos were excellent for understanding how the equipment worked and got us up and running quickly. We had time to test out the equipment before the event and make sure we understood how it all worked. For the event itself, everything went incredibly smoothly, and our teens had so much fun. The Hornets were perfect for us. I was very impressed with your customer service and pricing. When I first contacted LTS many months ago, I did some shopping around to see what our local businesses could offer. We're in Washington and therefore in the furthest range for your shipping. I thought that perhaps a local business might be less expensive. What I found was that nearby companies had loss options to offer, didn't think they could accommodate our building, and would cost more than $600 for two hours of game play. Your rep gave us several options for what would work with our floor plan, if we wanted scoring, and what taggers worked well for beginners. The pricing drastically beat the prices of local companies too, and we got the equipment for the entire program. This was great, because our teens were playing laser tag from 9:30 pm – 5:30 am (and would have played longer if we had let them). Your equipment helped to boost our library's programming and teen interest in reading and participating at the library. I think the only area of trouble we had was with getting the scoring equipment to regularly detect all the laser tag equipment. We worked to have a table set up where we could quickly lay out the taggers within line of sight of the Laser Swarm unit (forgive me if I'm getting the name wrong). We discovered that the more players we had, the longer it took for this to register at the end of the game, and some taggers wouldn't be detected, even when we tried to get them more clearly in view of the Swarm. Still, this was a small hiccup that no one really minded. Teens loved bragging about how well they did, who they tagged the most, and how long they survived. I've already recommended your company to several people. Thank you so much for your excellent customer service!
The laser guns were a huge hit for our youth group lock-in!!! I took the box to UPS Store just a little while ago. Thank you for the great product and service you will definitely be recommended!!!!
First off, I would like to thank your company for providing such an awesome customer service experience! You guys went above and beyond the call of duty!
We had a great time and will rent again.
I rented guns from you two years ago for a bachelor party! It was so much fun that I thought of renting from you guys again for another bachelor party I'm helping to throw!!
WOW you have a great company! My son had a blast and all of the kids had a great time with the laser tag guns. Continue doing what you are doing!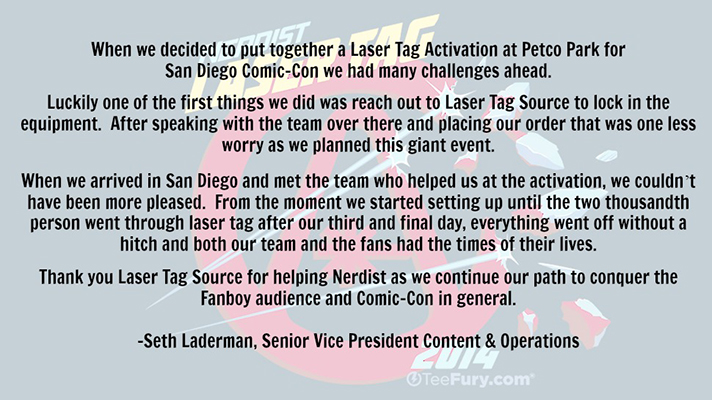 Thank you for the amazing laser guns that were such fun all weekend long! They were dropped off with all the additional batteries to UPS today.
Our party went very well. The kids enjoyed immensely.
Everything was perfect and much enjoyed. You run a great company and I plan to tell everyone I can. Thanks!
We cannot say enough great things about you all. You guys are getting such rave reviews and I really cannot thank you enough for your positive attitudes, professionalism, and just over all great vibes. THANK YOU TIMES A GAZILLIOONNNNNN.
Everything went great and worked perfectly.
The laser tag box was returned on Friday, May 29 with your return label. We had an amazing time! We didn't end up changing any of the batteries and returned the bag of batteries that came with the box. Thanks so much! We will probably need to repeat the event every year! Hope you end up with a Hawaii Representative!
Thank you for a great rental. My son and friends had a "blast" playing laser tag for hours for his b-day party.I have sent the rental equipment back to you using the enclosed packing slip and return postage.
The event was awesome. I'll definitely be coming to you for this in the future 🙂
You guys are AWESOME! thanks for helping this last minute mom who can't plan ahead and wants to throw an awesome birthday for her 11 year old twins.
Just wanted tot let you know guns got there on time and kids had a great time yesterday. I had a blast trying to keep up with 11 year olds. Thank you
It worked out great! Every kid got a chance to play for at least 2 fifteen minute sessions. They all loved the guns and they were super simple for them to operate. Thanks again for taking care of us in such a timely fashion. We will certainly look to use you guys next year, too!
I just wanted to send a quick thank you for all the equipment – we ran
our laser tag event last night and it was awesome! The lasers and
scoring system all worked perfectly and the students loved it!
Used Laser Tag Source for an All-Nighter with 50 teens, there was a line of teens waiting to play laser tag all night. Best All-Nighter idea ever. Super easy to use and a fantastic deal.
laser tag guns we a hit for my son's 10th birthday party.
Very much enjoyed the laser tag. Met our son's expectations, and they were high. I appreciated that they came a couple days early, that allowed us to get used to and enjoy the equipment. I was amused by the Rule that stated refreshments must be provided (we of course did). I would recommend you to others.
This was my second time renting from y'all and it was another awesome experience. We provided a laser tag experience for over 225 fifth graders as part of our fifth grade celebration. The equipment worked great, and we didn't even need to change the batteries. The kids loved it and the staff was so excited that we ended up using the equipment for a "staff development" exercise after school. Thanks again for the wonderful customer service and quality product!
I am a mother of three boys (ages 12, 10, and 7) and we recently attended a Chick-fil-A staff party where Laser Tag Source provided the entertainment. My boys had a blast. They thanked me repeatedly for letting them come and play Laser Tag. They also began planning their future birthday parties and made sure that I knew that they wanted to have Laser Tag Source be the entertainment..
The laser tag equipment was amazing. We had a great time with the rental and have recommended it to lots of people and will keep the information on file for future events. Thank you.
Thank you so much for making this process so easy for us older people. LOL. You took time on the phone with me and answered all of my questions. I even called two days in a row and you were very nice and helpful. Our kids had a blast!!! I would definitely recommend your company and your equipment again. Thank you
We had a great time with the laser tag equipment!! I will be sure to tell my friends about your company.
Our event was extra-amazing with your products!
I wanted to let you know that the laser tag was the hit of the after prom. The kids loved it. I will definitely be renting them next year. And it was so easy to receive and return.
I wanted to say I was EXTREMELY satsified with my experience. You were all very professional, easy to deal with and the equipment all worked great. I appreciated the extra batteries and the cases they came in. I am the Youth Director at my church and have already started to spread the word about your company to fellow Youth Directors at churches and my Brother who is at a College and he said he would love to rent them for a fundraiser. I will be using your all again. Thank You so much for such a great experience. The students LOVED playing and they are already asking me when we are doing it again!
We used Laser Tag Source last weekend for our church Fall Festival. It was a blast. Young and old played. We ran the games at night and used glow sticks making it super fun. Guns alone had lights that made it all the more fun. Can't wait to try it again!
Everything was great with the guns! Thanks for everything.
This is Christopher from Citibank in Jacksonville Florida, and I wanted to reach out and thank you for all your help and support that you provided for our event in September. You team provided AMAZING entertainment for our event and turned several heads throughout the day. Our event was such a show stopper, that I have already received a lot of inquiries regarding the event, specifically the laser tag and was happy to forward information along to other departments as well as other sites across the US. Our PR department even came down to get in on some of the action and had a great time as well. THANK YOU FOR MAKING OUR EVENT SUCH A HUGE HIT.
Hi Tony, Thank you so much for everything. The kids all thought my son's birthday party was the best party ever, and my son is still just glowing from all the fun he had. The guns worked great, and I was so pleased with the ease of ordering and shipping. You've got a great business! I will certainly recommend your business to everyone!
Everything was a huge success. From receiving the guns on time and having them all work, to the day of the event. Returning was very easy to do too. Thank you for the extra batteries! They came in handy. We would do this again and I would recommend it to friends and family.