Connecticut
Laser Tag Source State of the Week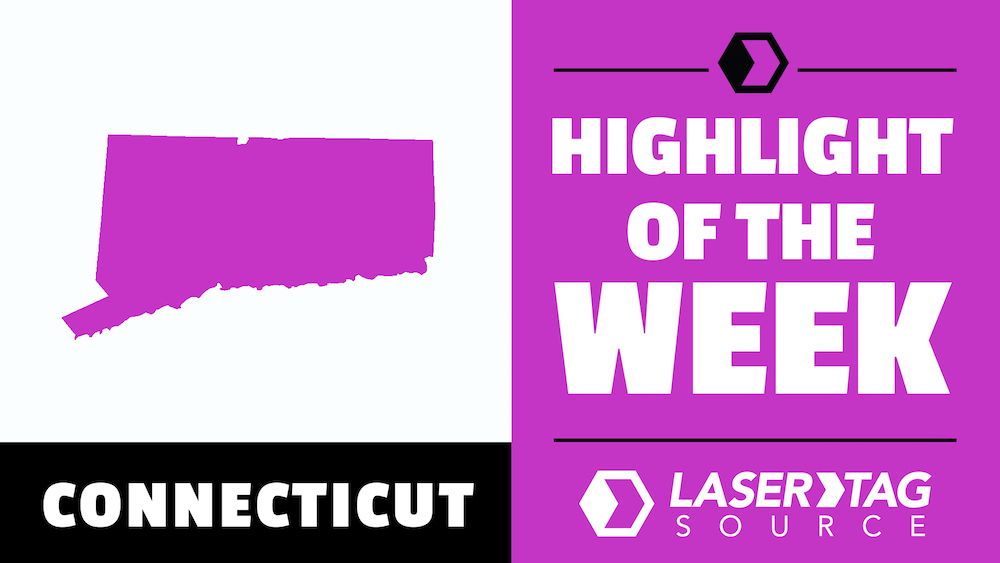 Connecticut Quick Facts
State Abbreviation – CT
State Capital – Hartford
Largest City – Bridgeport
Name for Residents – Connecticuters
Major Industries – agriculture, industry (especially insurance), tourism
Origin of the Name Connecticut – The name Connecticut is from a Mohican/Algonquin Indian word "quonehtacut", which means "long tidal river."
State Nickname – Constitution State
State Motto – "Qui transtulit sustinet" – He Who Transplanted Still Sustains
State Song – Yankee Doodle
Additional Connecticut Information
Minerals
Garnet is Connecticut's state mineral.
Highest Peak
The highest peak in Connecticut is Bear Mountain.
Most Remote
The most remote site in Connecticut is Mount Bradford in Canaan.
Rocks
All three rock types are found in Connecticut: Sedimentary, Metamorphic, and Igneous.
Dinosaurs
Dinosaur tracks in Rocky Hill were discovered in 1966.
Fishing
Best striped bass fishing occurs in the Sound from spring to fall at all major reefs and shoals and at mouths of large rivers.
Phones
The first telephone book ever issued contained only fifty names. The New Haven District Telephone Company published it in New Haven in February 1878.
Nuclear Subs
The USS Nautilus – the world's first nuclear powered submarine was built in Groton in 1954.
Connecticut and Rhode Island never ratified the 18th Amendment (Prohibition).
Connecticut By the Numbers
The highest elevation in Connecticut is the slope of Mount Frissel at 2380′ (the peak, 2,453′ is in MA).
Pachaug State Forest is Connecticut's largest state forest at 29,292 acres.
Connecticut has 332 miles of jagged coastline, including bays, harbors and coves. If all salt-water influenced watercourses are included, Connecticut has 1,065 miles of coastal shoreline.
Miles of protected coastline
Approximately 82 miles of Connecticut's coastline has been protected through public or private conservation ownership.
All the steel products in CT are made from at least 25% recycled steel.
5,544 square miles [Connecticut is the 48th biggest state in the USA]
3,596,080 (as of 2013) [Connecticut is the 29th most populous state in the USA]
Cities Laser Tag Source has Shipped to
<iframe src="https://www.google.com/maps/d/u/0/embed?mid=1hja3amoRCYwPtXgJn4_iyC9nHy4" width="100%" height="480"></iframe>