Delaware
Laser Tag Source State of the Week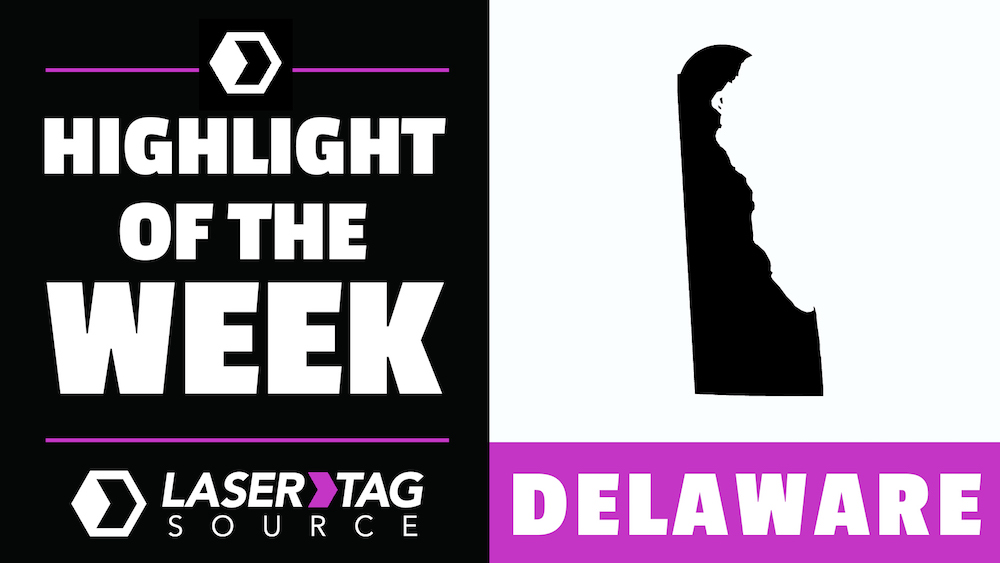 Delaware Quick Facts
Statehood: December 7, 1787
State Moto: Liberty and Independence
State Nickname: The First State. Delaware is known by this nickname due to the fact that on December 7, 1787, it became the first of the 13 original states to ratify the U.S. Constitution. "The First State" became the official State nickname on May 23, 2002 following a request by Mrs. Anabelle O'Malley's First Grade Class at Mt. Pleasant Elementary School.
The log cabin originated in Finland. Finnish settlers arrived in Delaware in the mid-1600s and brought with them plans for the log cabin, one of the enduring symbols of the American pioneer.
Additional Delaware Information
Agriculture
broilers, soybeans, corn, milk
Fishing
crabs, clams
Manufacturing
chemicals, food products, paper products, rubber and plastics products, primary metals, printed materials.
Mining
sand and gravel, magnesium compounds.
Other Nicknames
"The Diamond State"
Thomas Jefferson gave this nickname to Delaware, according to legend, because he described Delaware as a "jewel" among states due to its strategic location on the Eastern Seaboard.
"Blue Hen State"
This nickname was given to Delaware after the fighting Blue Hen Cocks that were carried with the Delaware Revolutionary War Soldiers for entertainment during Cockfights.
"Small Wonder"
This nickname was given to Delaware due to its size and the contributions it has made to our country as a whole and the beauty of Delaware.
Ebright Azimuth – 447.85 ft. above sea level near Ebright Road in New Castle County.
45th among the states; Density: 401 persons per square mile.
Cities Laser Tag Source has Shipped to
<iframe src="https://www.google.com/maps/d/u/0/embed?mid=1YFxaWpQJ-tKX4F8qbvpnDk0MnOQ" width="100%" height="480"></iframe>