Georgia
Laser Tag Source State of the Week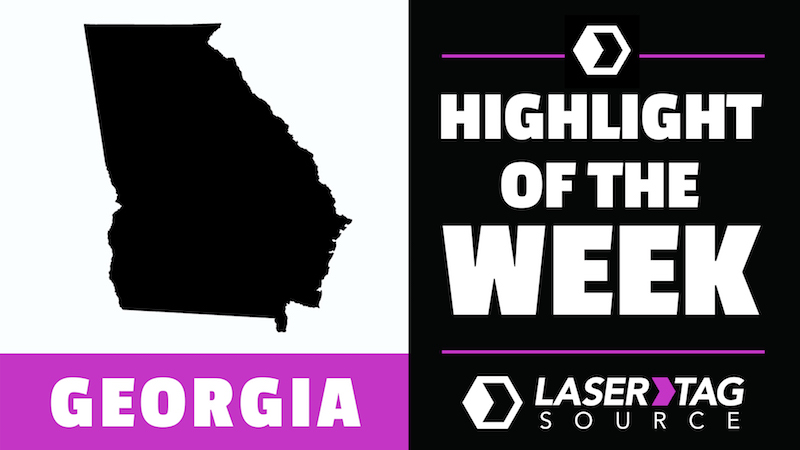 Georgia Quick Facts
Georgia is the largest state east of the Mississippi River.
The only county in Georgia named after a woman is Hart county,named for Nancy Hart, a patriot and warrior in the fight against the British during the Revolutionary War.
Georgia is home to the oldest state park in the nation.
Wesleyan College in Macon was the first college in the world chartered to grant degrees to women
Georgia was the 4th state to join the Union in 1776 and the 5th to join the Confederacy in 1861.
Georgia is home to the invention of the Cherokee written alphabet.
Other Georgia Facts
Granite Capital
Elberton, Georgia is the Granite Capital of the World. Stone Mountain, near Atlanta, is one of the largest single masses of exposed granite in the world.
First European
Hernando de Soto was the first European to explore Georgia in 1540.
Founded
Founded by James Oglethorpe on February 12, 1733; 13th colony
Statehood
January 2, 1788; 4th state
Capital
Atlanta, since 1868
Moto
"Wisdom, justice, and moderation"
Nicknames
Empire State of the South; Peach State
Georgia has 159 counties, more than any other state east of the Mississippi.
There are 350 species of birds in Georgia.
endangered plant and animal species.
Georgia is home to 65 threatened and endangered plant and animal species.
The largest wild hog found ever discovered was found and killed in Alapaha Georgia. Weighing in at 1,000 pounds and measuring 12 feet in length, the creature was nicknamed "Hogzilla".
9,687,653; 9th most populous in United States (as of 2010 census)
Cities Laser Tag Source has Shipped to
<iframe src="https://www.google.com/maps/d/u/0/embed?mid=1mKlwVfcTmM128DvVu8frQB4i32Y" width="100%" height="480"></iframe>