Idaho
Laser Tag Source State of the Week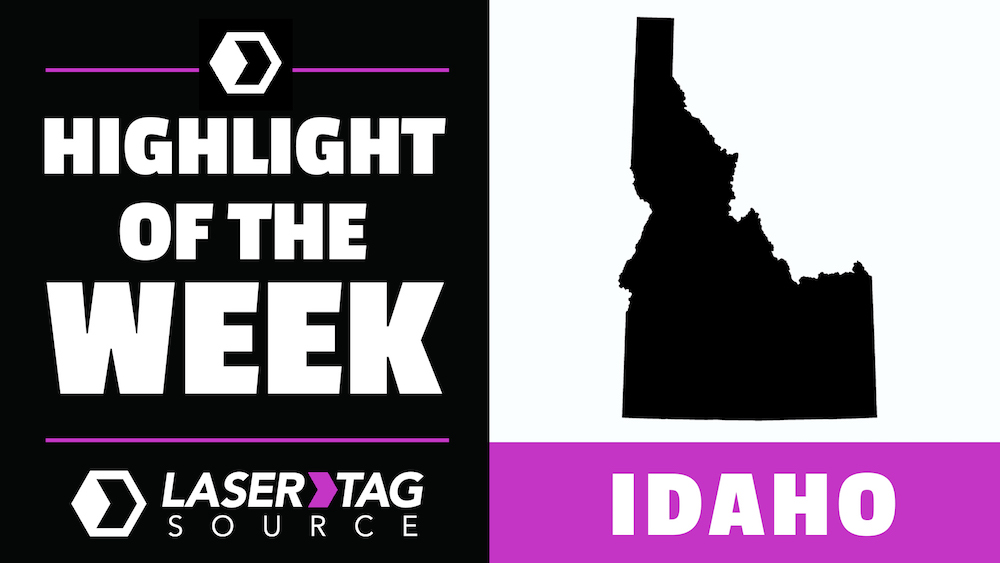 Idaho Quick Facts
State Bird: Mountain Bluebird

Motto: Esto Perpetua

State Fish: Cutthroat Trout

Largest Lake: Pend Oreille

Number of Counties: 44 Size (U.S. State Rank): 14th

State Fruit: Huckleberry State

Raptor: Peregrine Falcon

Capital: Boise

Nickname: Gem State

State Horse: Appaloosa

State Fossil: Hagerman Horse
Other Idaho Facts
Moto
The state of Idaho was named after the Indian word 'ídaahę́' (meaning "the Land of many Waters")
Potatoes
Idaho is famous for potatoes, producing about one-third of the potatoes grown in the United States. The first potato in America was planted in New Hampshire, in 1719. Henry Harmon Spalding brought the potato to Lapwai, Idaho, in 1836, to help the Nez Perce tribe grow their own food.
State Seal
Idaho's state seal is the only one in the U.S. designed by a woman. In 1890, Emma Edwards Green submitted the design for the State Seal competition sponsored by the First Legislature for the State of Idaho. On May 5, 1891, Edwards was awarded $100 by Governor N. B. Willey for her design of the state Great Seal, which depicts a miner, a woman and various natural resources of Idaho. Bron in in Stockton, California, Emma Edwards Green was the daughter of former Missouri Governor John Cummins Edwards
Soada Springs
Soda Springs, Idaho is home to the 'Soda Springs Geyser', the only captive geyser in the United States. On November 30, 1937, a well drilling operation while attempting to build a natural hot springs swimming pool was unintentionally released Soda Springs's famous captive geyser, which surprised everyone by shooting 100 feet into the air. It has been capped and a timer activates it once every hour. The water it shoots up is about 72 degrees Fahrenheit.
No Large Candy Exchange
In Idaho law forbids a citizen to give another citizen a box of candy that weighs more than 50 pounds.
Lewis and Clark
The Lewis & Clark Highway (United State Highway 12) is the shortest route from the midwest to the Pacific Coast and the longest highway within a national forest in the nation.
Idaho is called the "Gem State", because nearly every known type of gemstone has been found in the state of Idaho. More than 72 different precious and semi-precious gemstones are mined from Idaho
Idaho's Capitol Building is the only one in the United States heated by geothermal water. The hot water is tapped and pumped from a source 3,000 feet underground.
At 7,993 feet deep, Hells Canyon in western Idaho is the deepest river gorge in North America. (Grand Canyon of Arizona is only about 6,000 feet deep)
Elk River is the home of the Idaho Champion Western Red Cedar Tree, the largest tree in the state. Estimated to be over 3000 years old this giant is more than 18 feet in diameter and stands 177 feet tall.
Grangeville is located in north central Idaho. The community is considered the gateway to five wilderness areas and four national forests totaling 5 1/2 million acres. The total is second only to Alaska in designated wilderness area.
Cities Laser Tag Source has Shipped to
<iframe src="https://www.google.com/maps/d/u/0/embed?mid=1Xi7GiokB3TAyZ12lCHuUdNvMGk4" width="100%" height="480"></iframe>
More Information
http://idahofacts.facts.co/funidahofactsabout/idahofacts.php#TGmt5qvhRYpklo4r.99
http://www.50states.com/facts/idaho.htm
https://visitidaho.org/content/uploads/2015/10/ITC_IdahoBingo_Card_DOWNLOAD.pdf