Indiana
Laser Tag Source State of the Week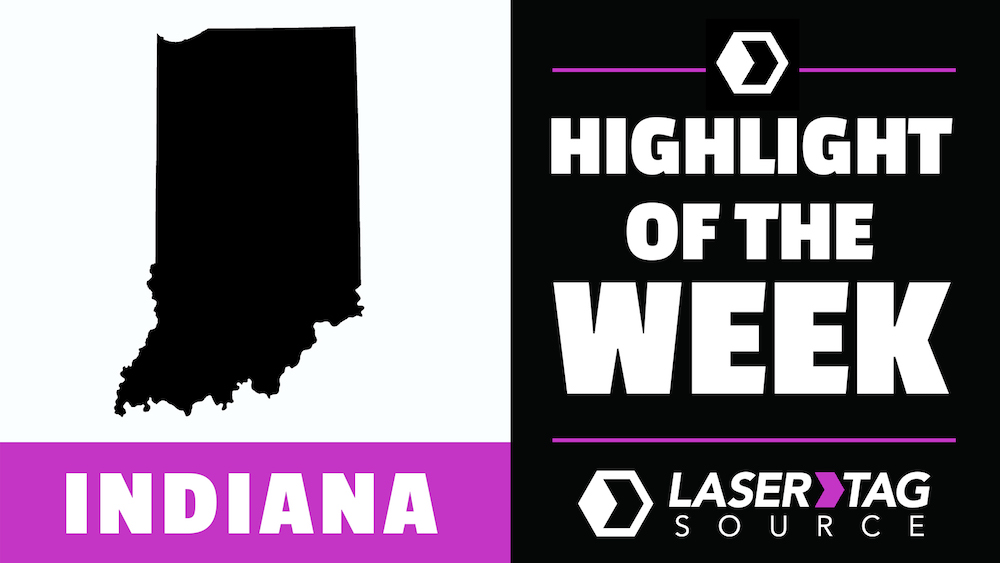 Indiana Quick Facts
Constitution: Indiana's Constitution , 19th State
Capital City: Indianapolis
Nickname: Hoosier State
Explorers Lewis and Clark set out from Fort Vincennes on their exploration of the Northwest Territory.
During WWII the P-47 fighter-plane was manufactured in Evansville at Republic Aviation.
The first professional baseball game was played in Fort Wayne on May 4, 1871.
Other Indiana Facts
Auto Racing
The first long-distance auto race in the U. S. was held May 30, 1911, at the Indianapolis Motor Speedway. The winner averaged 75 miles an hour and won a 1st place prize of $14,000. Today the average speed is over 167 miles an hour and the prize is more than $1.2 million. Indianapolis Motor Speedway is the site of the greatest spectacle in sports, the Indianapolis 500. The Indianapolis 500 is held every Memorial Day weekend in the Hoosier capital city. The race is 200 laps or 500 miles long.
Cross Roads
True to its motto, "Cross Roads of America" Indiana has more miles of Interstate Highway per square mile than any other state. The Indiana state Motto, can be traced back to the early 1800s. In the early years river traffic, especially along the Ohio, was a major means of transportation. The National Road, a major westward route, and the north-south Michigan Road crossed in Indianapolis. Today more major highways intersect in Indiana than in any other state.
Limestone
Deep below the earth in Southern Indiana is a sea of limestone that is one of the richest deposits of top-quality limestone found anywhere on earth. New York City's Empire State Building and Rockefeller Center as well as the Pentagon, the U.S. Treasury, a dozen other government buildings in Washington D.C. as well as 14 state capitols around the nation are built from this sturdy, beautiful Indiana limestone.
First Woman Millionaires
Sarah Walker, who called herself Madame J.C. Walker, became one of the nation's first woman millionaires. In 1905 Sarah Breedlove McWilliams Walker developed a conditioning treatment for straightening hair. Starting with door-to-door sales of her cosmetics, Madame C.J. Walker amassed a fortune.
Population of 6,570,902; Rank: 16 of 50 (2013)
Marcella Gruelle of Indianapolis created the Raggedy Ann doll in 1914.
James Dean, a popular movie star of the 1950s in such movies as "East of Eden" and "Rebel without a Cause", was born February 8, 1941, in Marion. He died in an auto crash at age 24.
Santa Claus, Indiana receives over one half million letters and requests at Christmas time.
Historic Parke County has 32 covered bridges and is the Covered Bridge Capital of the world.
Cities Laser Tag Source has Shipped to
<iframe src="https://www.google.com/maps/d/u/0/embed?mid=1YOBlzaI36mO3SNNrqjYN8VkAUf8" width="100%" height="480"></iframe>