Iowa
Laser Tag Source State of the Week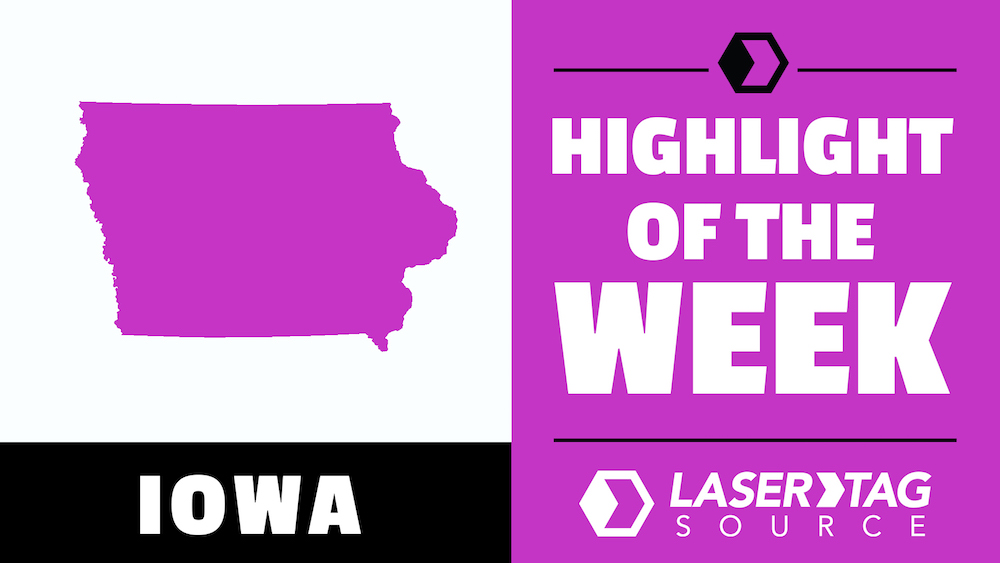 Iowa Quick Facts
Capital City: Des Moines
Nickname: Hawkeye State
Strawberry Point is the home of the world's largest strawberry.
The state's smallest city park is situated in the middle of the road in Hiteman.
Dubuque is the state's oldest city.
Spirit Lake is the largest glacier-made lake in the state.
Other Iowa Facts
Oscar Winner
Born Donnabelle Mullenger in Denison, Oscar Award-winning actress, Donna Reed, started her career at the young age of 16.
Movie Star
Born Marion Robert Morrison in Winterset, John Wayne was the son of a pharmacist and grew up to become one of Hollywood's most popular movie stars.
Woolly Mammoth Bones
Woolly mammoth bones are abundant. The prehistoric pachyderms once lived in the area, so it's not that unusual for residents to find mammoth bones. They're especially prevalent in Mahaska County, where people seem to stumble upon them by accident.
Iowa Writers Workshop
The University of Iowa has hosted the Iowa Writers' Workshop, a graduate-level creative writing program, for close to 80 years. Alumni and/or faculty include John Irving, Flannery O'Connor, Robert Frost, and Kurt Vonnegut.
More than 25 percent of the state's electricity comes from wind power. That's the result of more than 3200 wind turbines, the highest concentration in the country. The state hopes to up that to 40 percent by 2020.
Grant Wood's American Gothic
It's home to the house in Grant Wood's American Gothic. Wood sketched the house when he passed through Eldon, Iowa, in 1930, struck by the contradiction of the modest Midwestern house with rather fancy windows. He painted the home back at his studio, then added the dour-looking man and woman, modeled after his dentist and his sister, respectively.
Iowa is the only state whose east and west borders are 100% formed by water. Missouri and Mississippi rivers.
Herbert Hoover, a West Branch native, was the 31st president of the United States and the first one born west of the Mississippi.
Francis Drake was 66 years old at his inauguration and Iowa's oldest governor.
Cities Laser Tag Source has Shipped to
<iframe src="https://www.google.com/maps/d/u/0/embed?mid=11vK3Tqli6Rn7ddvPxZtQtDLRG1A" width="100%" height="480"></iframe>