Nevada
Laser Tag Source State of the Week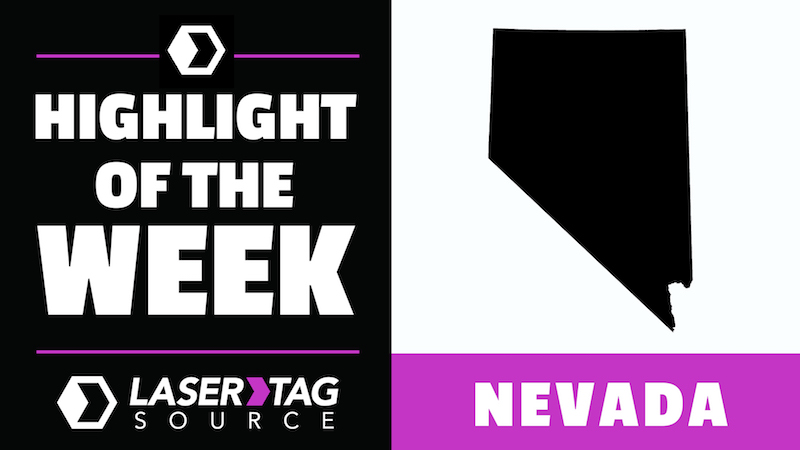 Nevada Quick Facts
State Capital: Carson City
State Bird: Mountain Bluebird
State Animal: Desert Bighorn Sheep
State Rock: Sandstone
State Precious Gemstone: Virgin Valley Black Fire Opal
State flower: Sagebrush
Other Nevada Facts
Airline Baggage Check-In
The Imperial Palace on the Las Vegas strip is the nation's first off-airport airline baggage check-in service.
Liberace Museum
Nevada is the only state with an entire museum devoted to the life and time of entertainer Liberace.
Gold
Nevada is the largest gold-producing state in the nation. It is second in the world behind South Africa.
Hotel Rooms
Las Vegas has more hotel rooms than any other place on earth.
Snow-Clad
Nevada takes its name from a Spanish word meaning snow-clad.
Pair-O-Dice Club was the first casino to open on Highway 91, the future Las Vegas Strip
state's highway 50 also known as the Loneliest Highway in America
Hoover Dam, the largest single public works project in the United States
Bertha a performing elephant entertained at John Ascuaga's Nugget Casino
top of boundary Peak near the west-central border
Cities Laser Tag Source has Shipped to
<iframe src="https://www.google.com/maps/d/u/0/embed?mid=18EqchY5mAkDDEhfbWs3SVGwZlRE" width="100%" height="480"></iframe>
More Information
http://www.50states.com/facts/nevada.htm
https://statesymbolsusa.org/states/united-states/nevada