New Hampshire
Laser Tag Source State of the Week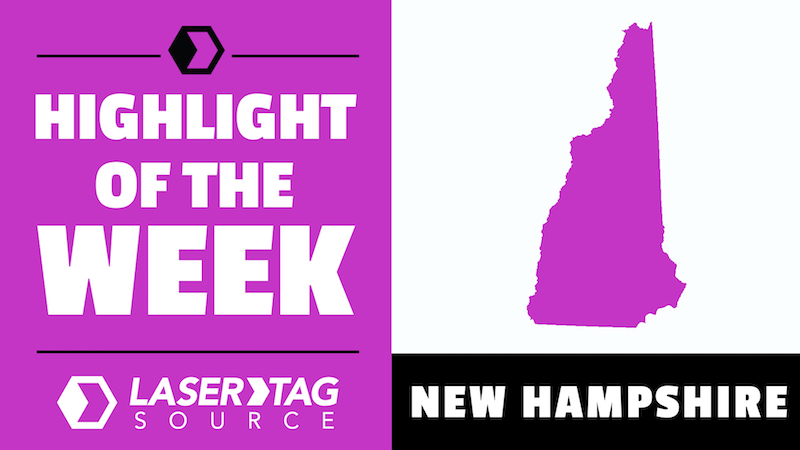 New Hampshire Quick Facts
State Capital: Concord
State Bird: Purple Finch
State Animal: White-tailed Deer
State Beverage: Apple Cider
State Nickname: The Granite state
State Motto: Live Free or DIe
Other New Hampshire Facts
First Independent
Of the thirteen original colonies, New Hampshire was the first to declare its independence from Mother England — a full six months before the Declaration of Independence was signed.
Oldest Brick Knitting Mill
The Belknap Mill built at Laconia in 1823 is the oldest unaltered brick knitting mill in America.
Mary Had a Little Lamb
Sarah Josepha Hale author and journalist who wrote the poem "Mary Had a Little Lamb" in 1830 is from Newport, New Hampshire.
Free Public Library
The first free public library in the United States was established at Peterborough in 1833.
First in Space
Alan Bartlett Shepard Jr., the first American to travel in space is from East Derry, New Hampshire.
New Hampshire By the Numbers
Dover Cotton Factory enacting the First women's strike in the United States
first potato planted in the United States was at Londonderry Common Field in New Hampshire
highest wind speed recorded at ground level is at Mt. Washington
The blue Ghost of Wolfeboro is the US Mail Boat for Lake Winnipesaukee delivering mail to 30 at camps and islands around the lake.
The smallest town in New Hampshire is New Castle
Cities Laser Tag Source has Shipped to
<iframe src="https://www.google.com/maps/d/u/0/embed?mid=1OaM0VDw4aQHXDWbTtdaOF7lxjnY" width="100%" height="480"></iframe>