New Mexico
Laser Tag Source State of the Week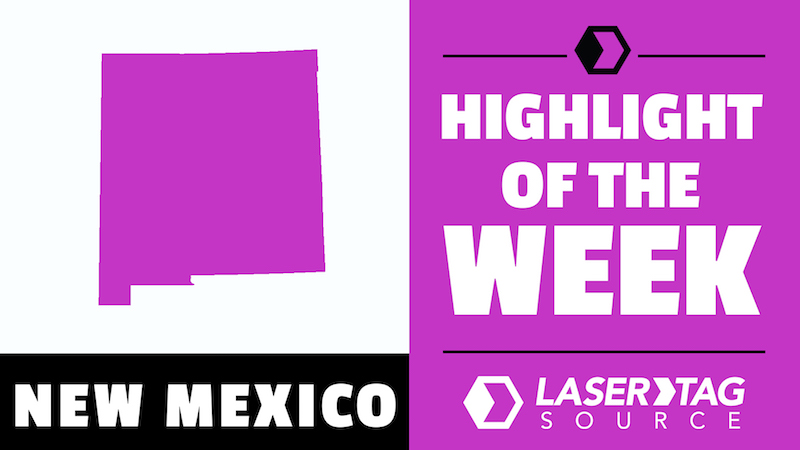 New Mexico Quick Facts
State Capital: Santa Fe
State Gem: Turquoise
State Animal: Black Bear
State Clean-up Mascot: Dusty Roadrunner
State Nickname: Land of Enchantment
State Slogan: Everybody is Somebody in New Mexico
Other New Mexico Facts
Hot Air Balloons
Each October Albuquerque hosts the world's largest international hot air balloon fiesta.
Crystal Desert
White Sands National Monument is a desert, not of sand, but of gleaming white gypsum crystals.
Fire
The largest fire in the state's history was ignited on May 4, 2000 in the National Park Service's Bandelier National Monument, when a controlled burn meant to clear away dry brush and prevent future wild fires leaped out of control due to high winds. 25,000 people, including all the residents of Los Alamos, were forced to evacuate their homes.
Four Corners
New Mexico is one of the four corner states. Bordering at the same point with Colorado, Utah and Arizona.
Indian Capital
The town of Gallup calls itself the "Indian Capital of the World" and serves as a trading center for more than 20 different Indian groups. Every August it is the site of the Inter-Tribal Indian Ceremonial
New Mexico By the Numbers
Santa Fe is the highest capital city in the United States
The Palace of Governors in Santa Fe is one of the oldest public buildings in public
The nation's largest Native American Group, The Navajo
there are only about 12 people per square mile
Nation's largest Forest, Gila National forest
Cities Laser Tag Source has Shipped to
<iframe src="https://www.google.com/maps/d/u/0/embed?mid=1WlILUnqbO9L5XV-X5r_MEDS3-24" width="100%" height="480"></iframe>