Adults take over the Kid's Museum
Adults need to have some fun too and there's an upcoming event that will allow you to ditch the kids for the night and take a friend or your sweetheart for a night out on the town!
Laser Tag Source has been invited back to Amazement Square in Lynchburg, Virginia to be a part of their annual Museum After Dark 2015 (#MAD2015). If you aren't familiar with Amazement Square, be sure to go check out their website and Facebook page to see all the fun activities they provide to the children (and adults) of the Lynchburg community on a regular basis!
This year, the theme for #MAD2015 is the Hunger Games! If you ask me, a Hunger Games-themed anything immediately makes me want to be a part of it, and Laser Tag gets to share in that fun! The event will take place on August 28th at Amazement Square from 6:30-10:30pm and there is definitely plenty of featured activities to fill that time.
Who doesn't want to learn how to make arrows and then be trained on how to shoot them?! Archery not your forte? No worries, they are also offering a blacklight paintbox, laser tag (that's us!) and late night snacks and dinner specials at some local restaurants in the area.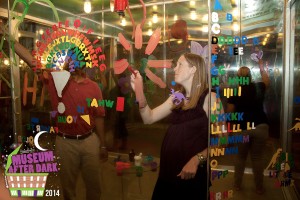 This year, Laser Tag Source has some new ideas for this year and it may be along the lines of playing in a last-man-standing kind of way. The guns you see in our featured image is our pride and joy, the Tippmann, were the gun of choice last year and will be making another appearance this time around.
If you want to see just how much fun you will have if you go, stop by Amazement Square's Facebook page and check out some of the photos from their February 2015 event and last year's event.
Fun fact: Amazement Square was a 2015 recipient of the National Medal for Museum and Library Service. If they can win a national award, you know they know how to throw a party!