Looking for a way to take your Bachelor Party to the next level?
Create a laser tag battle and may the "Best Man" win! We have a Two Step list with several variations on how to create Best Man vs Groom fun for the whole group!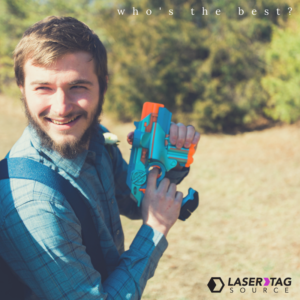 1. Supplies:
-laser tag guns (I'd recommend the Phoenix LTX – but more on that later)
-two teams
-room to play
-swag
2. Game Play:
If you have at least 4 people you can create 2 teams! Take your best man and groom and split them up – making each the captain, and give each a laser tag gun and a groomsman or team made up of groomsmen.
There are several different games you can play:
-Last Man Standing (you don't even need teams for this!)
-Capture the Flag
-Convoy
Now let's dive in to the various games you can create.
Last Man Standing:
In this game, everyone's Phoenix LTX gun is set to Solo mode. The object is (the name is a bit on the nose here) to be the Last Man Standing.
Set up your guns (this will take maybe a minute or two), turn them on and when you pull the trigger it will automatically start the count down. All of the game play functionality is held in the guns – and everyone will want to aim at the 360 degree dome built on top. You can play an unlimited number of games or play the best 2 out of 3 to claim those bragging rights.
Got room to run? That's all you need. The Phoenix and Ultimate work in sunlight or no light, and you can play indoors or out. Want something to hide behind? If you're in a city or have plenty of countryside, use natural objects as bunkers to hide between.
If you really want to go all out, get yourself some swag. Consider having a trophy made or one that you piece together. Come up with some adult beverages to commemorate the celebration and get yourself some food. Don't forget the playlist!
Capture the Flag
Go ahead and designate your Best Man and Groom as team captains and divy up those groomsmen as team mates.
Using the Phoenix LTX you can rent the Ultimate LTX, giving one each to your Best Man and Groom, or heck, even just the groom! The Ultimates give extra firepower for every shot. With the Phoenix LTX each hit counts as one; but with the Ultimate, each hit counts as 3. This makes each of their shots count a bit more. At $12 per Phoenix LTX and $16 for the Ultimate the fun is pretty cost-effective.
Need a flag? Anything can become a flag to capture, as long as you have two of them. If you want something "official" that can add a bit of oomph to your celebration, check out the Beacons. These bad boys are lightweight, easy to grab and run with, and look extra special at night when lit up!
Aside from being the first team to capture the other team's flag, check out these suggestions for game play:
-when a player's gun is tagged they must return back to home base and re-start game play from there
-once a player's gun is tagged out, that team is down a man for the remainder of the game
-a strategy suggestion is to keep your Groom and Best Man as flag guards – and if you have a big wedding party, give a few more guys the Ultimate and have them guard the flag too!
Convoy
Here's a twist: combine both the bachelor and bachelorette and have a HUGE party!
Take your trusty Phoenix LTX and with your group split into thirds, try to cross the playing field with one team being the Convoy and the other teams the Ambushers.
Split the playing field in half. Select a starting point and finish line on the opposite side of the playing area. Team 1 is the convoy and should group up at the starting point. Team 2 should position themselves anywhere in the close half of the field while Team 3 positions themselves in the distant half. Ambush teams are required to stay in their territories – only the Convoy team is allowed to cross between the halves of the playing field. The Convoy wins if they tag out both of the other team's members or if one member crosses the finish line!
Looking to spice it up? You can rent inflatable bunkers to create a more strategic field of play. Bride and Groom – if you want to say a Thank You to your wedding party why not throw a big laser tag party? Food, drinks, music and swag for your teams is a fun way to celebrate the night before.  Make your team shirts, decorate the team flags – go all out!
We know this is NOT the traditional "bachelor party" but why would you do anything ordinary? Feel free to take some inspiration, make these ideas your own and let us know if we can do anything to help!
-Kristina
Laser Tag Source events