Eye Dominance is your new best friend when it comes to strategy and laser tag!
Have you heard about 'ocular dominance'? That's a fancy way to say 'eye dominance'. According to Dictionary.com eye dominance is "a preference for use of one eye rather than the other, due to its acuity". Science is a fascinating thing. Having a knowledge of eye dominance can give you a leg up on the competition.
There are a couple of ways to determine eye dominance but the best I've found is a 10 Second Test thanks to WikiHow. I practiced it several times and it's truly amazing.
10 Second Eye Dominance Test:
-Point your finger at an object off in the distance.
-Close one eye while pointing.
-Open it and/or switch to your other eye.
-If your finger that's pointing at the object moves, the closed eye is dominant.
Check out their article here – they have several more in-depth tests if you're interested. Fun fact: when I tried this I started by closing my left eye and when I closed my right eye it looked like I'd moved my finger an inch to the right! My right eye is dominant and I plan to close that left one when aiming my laser tag gun! Other fun fact: out of the Laser Tag Source team, 2 out of the 3 of us are dominant with our left eyes.
Playing Laser Tag
So why does this matter when playing laser tag? Laser Tag – whether you're playing with the Titan or the LTX, is a game of some skill. Aiming at the laser tag gun in your opponent's hand is the way you or your team is going to win!
Tip one: If you want to get a leg up on the competition, make sure you are using your dominant eye when aiming!
Tip two: When you rent with Laser Tag Source, if your rental date falls on a Friday or Saturday, the equipment will arrive 1-2 days prior to your event. That means that we expect and encourage you to get that equipment out and test it! Play with it! Don't leave it in the box until the day of your event!
While you have that equipment out, test your skills. Play a round with some friends and try it both ways – testing your dominant eye and without.
Tip three: If you want to give your friends a chance to test their skills, set up a Skills Course prior to your event. Turn on all of your laser tag guns and set them up or prop them up, saving one. Make sure they are set to free play! With the one laser tag gun that you saved, line up your players and turn their laser tag gun on. As soon as it counts down turn them loose in your course. The object is to run through and be able to hit each laser tag gun where it's propped up and take a tally at the end.
Tip four: One of the best secrets we have is with the iCombat Barracuda. The iCombat is our serious laser tag player's dream laser tag gun! It keeps score, has a 360 degree sensor – including the screen that is reflecting the stats which means that someone can sneak up on you, and has our best kept secret: the sight on top of the gun.
When you look at the iCombat Barracuda laser tag gun, you'll see the V-shaped piece of the laser tag gun back towards the handle. That's the sight. It's so eloquently subtle in it's design that I looked right over it for the entire three years I worked here.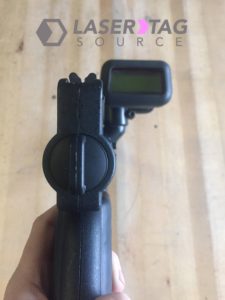 I didn't believe Tony, our COO when he said that using the sight on the gun helps, but it does. I know it's common sense but I like to argue and just couldn't take it at face value. Once I started playing and lining up the opponent's laser tag gun in the sight, my stats increased dramatically. Previously I just shut whichever eye I felt like closing in the moment – but now I know that I need to be closing my left eye and using the sight with my right eye, while my coworker's should do the opposite.
Do you have any laser tag tips? Feel free to share with us and let us know what you've discovered playing laser tag!
-Kristina
Laser Tag Source Marketing