A Thanksgiving Package
For the past few weeks you ha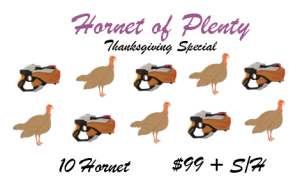 ve been reading a lot about two things in particular on here; the first is the Hornet laser tag gun, and the second is Thanksgiving. We created an harmonious package for both of the Hornet and Thanksgiving. The Hornet of Plenty is an offer we have going on from now until November 30th. The deal is a solid 10 Hornets for $99 + shipping and handling, which would usually cost you at least $120 + shipping and handling, just remember that the turkey's are not included due to the complications of shipping live animals to your doorstep. It is is the perfect way to experience some family time and some exercise after consuming the most calories you will in one sitting all year!
So when card games or charades isn't enough to prove what side of the family is best you can resort to a good old-fashioned laser tag battle. You could even throw in some of our new bunkers to make it even more interesting.
Or even when all the adults are ballooning out on their backs, nestled into various sofas and couches, and the nieces and nephews rush in screaming and yelling and somersaulting through the living room, then there can be the alternative game of laser tag for the nieces and nephews outside while the adults can digest in peace.
We even put together a heartwarming little video to show the kind of scenario for the Hornet Laser.
So go ahead and be that cutting edge family that other families longingly peer out their windows on Thanksgiving at and ask each other, "Where did they get those cool laser tag guns? I wish we had thought of that, oh well, I guess we'll go back to playing bridge." and who wants to be playing bridge on Thanksgiving? No one.
Don't be the lame bridge family. Be the hip laser tag family.