Don't know what to do for Valentine's Day?
Whether you want to throw an event for your favorite couple-friends or just your sweetheart, a great way to celebrate together is Laser Tag. Dating? Single? Married?  We have you covered.  And great news – you don't have to go to a laser tag arena on Valentine's Day to play! Read on for 3 Suggestions to Celebrate this Valentine's Day!
You and Your Sweetheart
Ladies!! If you want to surprise the man of your dreams, you can rent our Sweetheart Surprise package for $20!  It's 2 Titan laser tag guns that you can use to surprise your sweetie.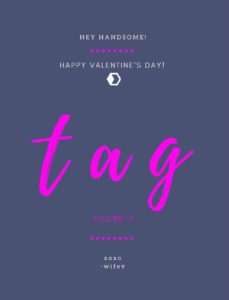 We've all seen the "Hi honey, I'm hiding in the house" invitation/meme on Pinterest and have made two invitations for you to download. One of the best ways to keep the romance alive is to include play into your dates and what better way then by a laser tag date?  Whether you are dating or married you can invite your honey to a surprise game of hide and seek with laser tag guns!
You and Your Closest Couple-Friends
Most couples have that one other couple that they are great friends with. Double dates. Double vacations. Double….laser tag competition!
Go all out.  Create your couple name if you haven't already.  Get bandannas or matching air-brushed t-shirts to set your team apart.  With four of the Phoenix LTX you all can create a double date for the history books.  This Valentine's Day you can decide through a friendly-loving game of laser tag who is the Best Couple Standing.
Got more friends?  Got kids?  The Phoenix LTX is $12 a piece and can turn your hum-drum night into a laser tag Valentine's Day bash at your house.  Ask your friends to bring the food, put someone in charge of tshirts or bandannas and get someone else to work on creating a playlist!
You're probably asking why I asked if you have kids.  Well.  With Laser Tag Source if your event is on a Friday or Saturday, you don't ship that equipment back until the next business day which is Monday.  After you have all of your Valentine's Day fun on a Friday, turn the same equipment into a Family Day on Saturday!  There's no sense in letting those laser tag guns just sit in the box!  (And yes – I know Valentine's Day is a Tuesday – feel free to plan ahead for the weekend before or after!).
You and All of Your Single Friends
Are you currently unattached?  Did you just recently break up?
You can still celebrate Valentine's Day and your awesomeness by playing laser tag.  The perfect laser tag gun for an all out party at your place with you and your closest friends is the iCombat.  This bad boy will take your break-up relief to the next level.  With seven different games included in the laser tag gun itself you can play for hours and not run out of options!
Whether you're looking for a friendly match to get to know a few people, or an all out competition, Laser Tag Source has just what you need.  From our Phoenix LTX to our iCombat Barracuda we have the perfect equipment for any event and the process couldn't be easier.
Just go on our website, find the type of laser tag gun you want and click Place Reservation.  Once it's placed your order will be tested, packaged and shipped right to your door just in time for your event date.  Use our equipment for the day or the weekend and simply return it all to the box and place our provided label on it.  From there just drop it off at your local UPS drop off point and you are all set.
Not only did you throw an awesome Valentine's Day couples party or mixer, but you'll have people talking for months about how great it was and when the next time will be!